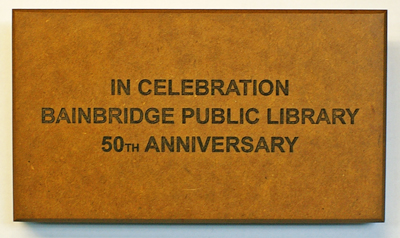 Honor and celebrate family or friends with a new library tile on the north wall of the library. Actual size: 2 3/8" X 4 5/8". This is a 50th Anniversary commemorative tile designed and produced by a local woodworking artist.
Patrons can claim their spot on the north wall of the library along the new lap top bar by purchasing a handsome memory / celebration tile. These will enhance the wall, provide funds for future improvements, and serve as a lasting reminder of individual, family, and business support of the library. Donation required: $350 which is fully tax deductible.
Upon payment patrons may select their spot by signing the paper mock-up on the north wall. The dedication must fit within four lines each having 16 spaces per line. Click here for the form.