Why is the roof on the library being replaced?
For the past several years, the roof on the library has been closely monitored as leaks have appeared. Repairs have been made but it became increasingly clear that sooner or later the roof would need replacing.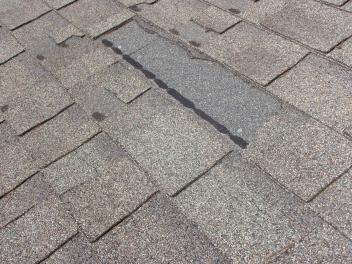 In April 2012, the roof was inspected and the recommendation of that inspection was to go ahead with replacement as soon as feasible. The strong wind storms in March and April had resulted in several areas of the roof where brittle shingles had blown off. The conclusion was that while emergency repairs could continue to be made, the costs would continue to escalate and the danger of rot and damage to the roof structure would be increasing.
In their May meeting, the Bainbridge Public Library Board of Directors authorized the replacement of the roof. The contractor selected is Hanley Roofing and the work will be finished before the first of June.
As a reminder, the library operation (building, grounds, maintenance, etc.) is supported entirely by community donations to Bainbridge Public Library. So this new roof comes from funds generously donated by the community and closely (and tightly) managed by the volunteer Board of Directors. To contribute, you can donate online via this website or pick up a Bainbridge Public Library donation envelope at the library.