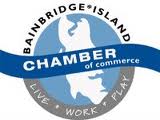 Bainbridge Public Library, which opened its doors to the island community in 1962, received Bainbridge Island Chamber of Commerce's 2013 Nonprofit of the Year Award in a gala ceremony on January 25, 2014.
Linda Meier, president of the all-volunteer Board of Directors of Bainbridge Public Library (BPL), was thrilled with news. Meier said, "Our much-loved, community-owned Bainbridge Public Library is proud and honored to be the recipient of the 2013 Chamber Nonprofit of the Year Award. Long live our wonderful library!"
Rebecca Judd, the Kitsap Regional Library Bainbridge Branch Manager, agreed. "This is a great honor for Bainbridge Public Library," said Judd. "Our thanks to the Chamber for this recognition and to the community for many years of support."
Bainbridge Public Library embodies the spirit of public-private partnership. While private individuals, businesses, and institutions donate funds, time, and expertise to allow BPL to maintain the grounds, manage facilities operations, and plan for improvements and expansion, Kitsap Regional Library (KRL) provides the holdings, programs, and staff.
The Bainbridge Public Library building and grounds are owned by the people of Bainbridge Island. All facility operations, including utilities, maintenance, and improvements, are funded solely through donations. An all-volunteer board manages the building on behalf of the citizenry and strives to ensure a vibrant community hub dedicated to the joy of reading, the discovery of ideas, and the power of information.
More than 250,000 patrons pass through the doors of Bainbridge Public Library each year, allowing BPL to serve as the primary public space for the community. Its warm, pleasant interior with enlivening art and cozy places to sit is surrounded by well-tended landscaping that seeks to inspire not only those who pass through the library's doors but all who pass by.
Bainbridge Public Library connects with the community through outreach to various local organizations, including the Bainbridge Island Chamber of Commerce. In addition to participation in and providing staging space for the annual Fourth of July parade, BPL is also a core partner with the Chamber in the successful BASE lecture series.
In addition to the 17 members of BPL's volunteer board of directors, approximately 250 individuals volunteer their time for BPL and KRL—an estimated 10,000 hours of volunteer time each year. The Friday Tidies, Japanese Garden crew, Fern Garden tenders, and composters keep the grounds looking wonderful; the Friends of the Library host wildly successful used book sales to fund a growing endowment; and Field's End helps island writers develop their craft. They do so out of their commitment to the vital role all libraries serve as well as a love of this enduring island gem.