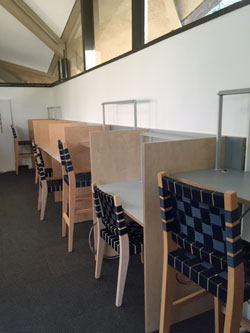 The current schedule is for construction in the Children's Library to finish in September. Early in October the entire library will once again be open. In the now open upstairs you will note a greatly expanded Conference Room and much more seating for reading and small booths for group work. Downstairs you will notice a renovated interior space and attractive reading nooks for children. Energy efficient LED lighting is employed throughout both floors.
The Friends of the Library book sales will continue in September through the renovation with their normal schedule. Updates will continue on our website and on signage inside and outside the library.
For more information, including Q&A and the scope of the project, click here.
Visit KRL.org/bainbridge-island for current changes to services.
Here's a link to the April 21, 2017 Bainbridge Review article about the Refresh Project.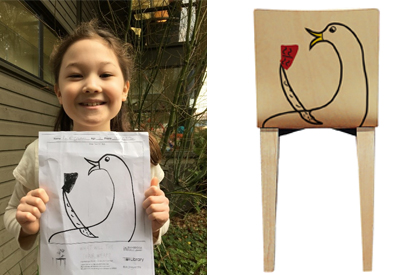 Winner Announced for

What Will the Chair Wear?

Contest By Judy Tingley
Rylie Croman, 7, is the winner of the Bainbridge Public Library's Art Contest, What Will the Chair Wear? As part of BPL's Refresh Project, children were offered the opportunity to draw a graphic for the decal that will adorn the back of 12 new children's chairs.
Rylie saw the notice about the contest about six months ago, on one of her frequent visits to the library. She quickly decided to enter the contest. She sat right down and started drawing. The theme of her 10 drawings was birds, holding books. Some drawings were too detailed and some had too much or too little color in Rylie's opinion. But the 10th and last drawing seemed right to her. "I just put it down. It happened at the end." She entered a simple swan with a yellow beak and a red book. She waited patiently to know the contest outcome and was surprised and delighted that she and her swan won.
Rylie's parents noted that reading and drawing are her favorite activities. Rylie adds that the Bainbridge Library is not only her most favorite place on the Island, but also the favorite of all 20 libraries she's frequented in her
lifetime. The people, the book selection, the warm atmosphere all contribute to her love of our library.