Furniture Sale - Project Clearance
The library will be holding a one-day sale of used furniture. The items for sale are located in the main library floor (upstairs).
Click here
to see the various items and their prices. Payment may be cash, check, or credit card. All purchased furniture must be taken away that day. There will be one final sale in June to sell items from the children's section.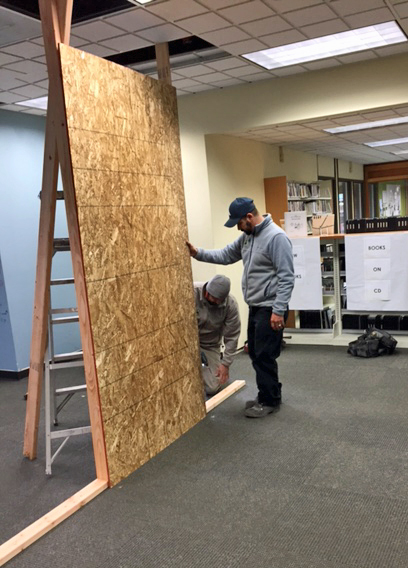 The Refresh Project construction began 9:13 AM on March 31 when Eric Petersen drove the first nail on the temporary wall which will shield the main library from construction in the main conference room. This wall will enable normal library operations to continue almost unchanged until that part of the project is finished.
The library will remain open during construction, but portions of the library will be blocked off as the remodel work moves from space to space. The meeting room on the main floor will be the first area to be remodeled, followed by phased work on both floors. We plan to announce specifics in a special e-newsletter once construction begins, as well as provide updates on our website, and signage inside and outside the library.
For more information, including Q&A and the scope of the project, click here.
Visit KRL.org/bainbridge-island for current changes to services.
Here's a link to the April 21, 2017 Bainbridge Review article about the Refresh Project.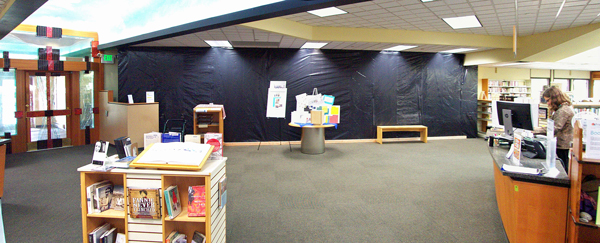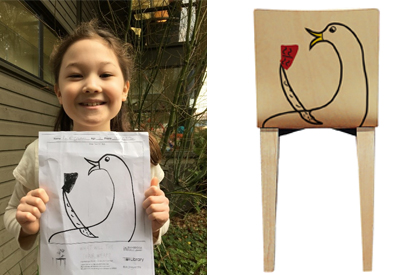 Winner Announced for

What Will the Chair Wear?

Contest By Judy Tingley
Rylie Croman, 7, is the winner of the Bainbridge Public Library's Art Contest, What Will the Chair Wear? As part of BPL's Refresh Project, children were offered the opportunity to draw a graphic for the decal that will adorn the back of 12 new children's chairs.
Rylie saw the notice about the contest about six months ago, on one of her frequent visits to the library. She quickly decided to enter the contest. She sat right down and started drawing. The theme of her 10 drawings was birds, holding books. Some drawings were too detailed and some had too much or too little color in Rylie's opinion. But the 10th and last drawing seemed right to her. "I just put it down. It happened at the end." She entered a simple swan with a yellow beak and a red book. She waited patiently to know the contest outcome and was surprised and delighted that she and her swan won.
Rylie's parents noted that reading and drawing are her favorite activities. Rylie adds that the Bainbridge Library is not only her most favorite place on the Island, but also the favorite of all 20 libraries she's frequented in her
lifetime. The people, the book selection, the warm atmosphere all contribute to her love of our library.