Thanks to a grant from the Rotary Club of Bainbridge, the Bainbridge Public Library is installing a hearing loop system to enable Islanders with hearing loss, a growing segment of Bainbridge's population, to better participate in the many and diverse events held in BPL's large Community Room.
"We want to provide good access to our 'silently disadvantaged' residents through the new hearing assistive technology," said Bob Bosserman, facilities committee chair for BPL's board of directors. He noted that the Community Room, the library's largest and most utilized public meeting space, is booked an average of 22 days a month.
Rick Faunt of Now Hear This!, installed the loop Sunday, June 15, with all related testing and facilities adjustments scheduled for completion by the end of the week, according to Bosserman.
Hearing or "induction" loops transmit the audio from a PA system directly to telecoil-equipped hearing aids and cochlear implants. The telecoil functions as an antenna, relaying sounds directly into the ear without background noise or distortion, just like Wi-Fi connects people to the Web.
Hearing loops are not new technology, having been used in Europe for several decades. In 2003 Florida college professor Dr. David Myers, who has hearing loss, started the "Let's Loop America" campaign to encourage broader use nationwide of the relatively inexpensive loops and telecoils.
"Back when Dr. Myers started, it was a chicken-and-egg situation," recalled Let's Loop Seattle founder Cheri Perazzoli, who launched the regional effort here in 2011. "Because few public venues were looped, few hearing aid providers recommended telecoils. And because few people had telecoils, they didn't know enough to advocate for hearing loops."
Now, however, more than 70 percent of hearing aids are equipped with "t-coils" and do not require users to don any additional equipment such as earphones, which are necessary with other hearing assistive technology. The library's new system will also include four receiver/headset systems for people whose hearing aids are not telecoil-equipped.
The 2010 Census data showed that of Bainbridge's population of 23,000, nearly 30 percent is 50 to 64 years old, while 16 percent is 65 and over. According to the National Center for Health Statistics, about 18 percent of adults 45 to 64 have hearing loss; the number rises to one in three by age 65, and to nearly half by age 75. Based on population and health statistics, at a minimum the current hearing-impaired population of Bainbridge is between 2,500 and 3,000 and will continue to grow.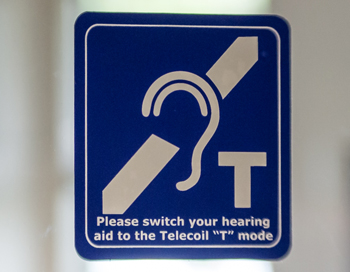 This sign, now posted at the entrance to BPL's Conference Room, alerts attendees that the space is equipped with telecoil-hearing loop technology.