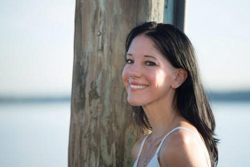 Jennifer Longo - Young Adult Fiction
Jennifer Longo is the author of the Young Adult novel,
Six Feet Over It
(2014). Teens will love the story of 15-year-old Leigh, who lost a best friend, has dealt with her sister's cancer, and now learns that her parents have bought the new family business: a graveyard in California. Darkly humorous and hauntingly beautiful, Leigh struggles with loss while also making new friends and learning lessons in her quirky new home. This book is sure to change the way readers look at life, death, and love.