We have a multi-talented staff at the Bainbridge library. In August, 2013, Caitlin Greer organized a display of staff art. In the photo, Caitlin is standing beside the display with works by Caitlin Greer, Gail Christensen, Patrick Gulke, Ann Lovejoy, Sara Freeman, and Kaye Spade. The slideshow below has closer images of their work. In the column to the right, are their artist statements.
The Bainbridge Island Library is fortunate to have a wonderful, friendly, and helpful staff.  Get to know them!

Rebecca Judd, Library Branch Manager
Rebecca came to Bainbridge Island from Massachusetts where she was the library director in Pelham.  She majored in classics at Northwestern University and earned her master's degree in library science at Indiana University.  She began her library career at the Bedford, Massachusetts Free Public Library as head of the Reference Department.  Four years later she moved to Pelham and in addition to her duties as Library Director, she was coordinator for the Massachusetts Book Awards,  While there she also founded the Friends of the Western Massachusetts Regional Library system.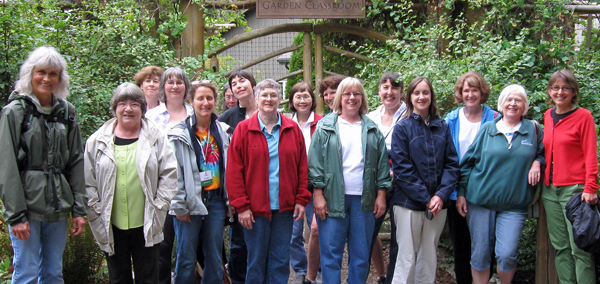 Bainbridge Library Staff at Island Wood - 2009