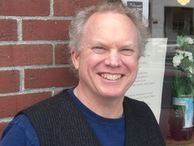 John Willson
- Poetry
John Willson is a widely published poet, winner of the Pushcart Prize, and recipient of awards from the Academy of American Poets, the King County Arts Commission, the Pacific Northwest Writers Conference, and the Artist Trust of Washington. His work has appeared in various literary journals, in JAMA, and in the anthologies Spreading the Word: Editors on Poetry, Under Our Skin: Literature of Breast Cancer, and Weathered Pages. One of his poems is featured at the Bainbridge Island High School swimming pool where it forms a permanent part of Maggie Smith's public arts project 'Water Quilt'. Willson has also published a collection of poems, The Son We Had, and is
editor of Exhibition, a Bainbridge Island literary and visual-arts magazine. Additionally, he is in charge of the poetry section at the Eagle Harbor Bookstore and holds local poetry workshops to support other poets.
Sue Hylen
, a fellow poet, says of Willson: "He inspires people not just to write their own work but also to see each others work, and have the courage to comment".
John Willson admits that a book launch in the midst of a pandemic is something he hadn't anticipated but this long-time Bainbridge resident, Eagle Harbor Book Company stalwart and Island Treasure is excited to offer his long-anticipated full-length collection of poems "Call This Room A Station," to a community that is practicing social distancing. Talking about his process, Willson who is already a prizewinning poet, notes that he is a craftsman and a perfectionist hence this book is a distillation over many years of his refined work. He hopes that in this time of coronavirus his audience will enjoy some time at home spent with what one critic has called "the great tenderness and delicacy" of his largely biographical poems.