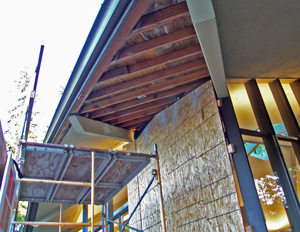 During the recent exterior painting of the library, evidence was found of dry rot in several places. Currently the REIJNEN Construction company is replacing some of the support beams from the original 1960 library construction. The exposed section in the image to the left shows the current area of work. This part of the library building faces the Children's Library parking lot with the High School Rd entrance.
The work is going on at the present to try and beat the wet winter.
While the dry rot was not visible externally except on close inspection, the Facilities group of Bainbridge Public Library immediately contracted to have it repaired. The cost of these repairs comes from the donations of library supporters who, like those who built the original library, want to have a sound building to use into the future.