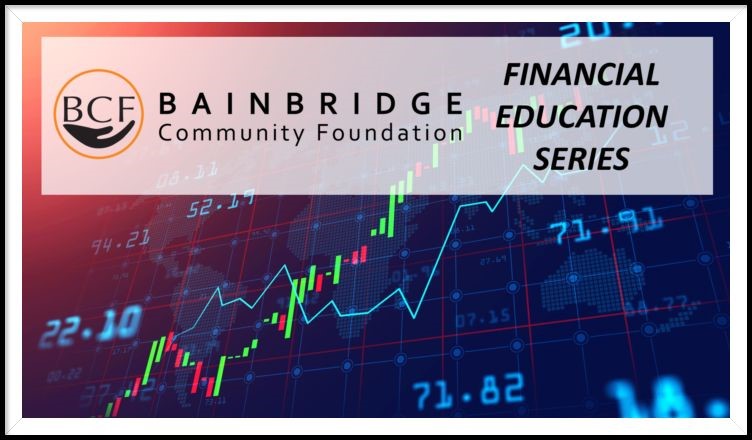 Still scratching your head over the GameStop bubble? Looking for ways to both supercharge and safeguard your retirement portfolio? Do you have children or grandchildren getting ready to take the investment plunge?
Library U, a program of the Bainbridge Public Library, is pleased to co-sponsor Bainbridge Community Foundation's free 5-part online series, Take Control of Your Financial Future, beginning Saturday, April 3. The program is organized by Paul Merriman, a BCF board member and president of The Merriman Financial Education Foundation. What better way to celebrate National Financial Literacy Month!

Here's the lineup. Details and registration links are at BCF Financial Literacy Series.
April 3, 9-10:30am
/ How to Invest in a Bubble, with Paul Merriman, president of The Merriman Financial Education Foundation.
April 8, 4:30-6pm
/ Six Retirement Blind Spots and How to Fix Them, with Christine Benz, Director of Financial Planning for Morningstar and author of 30-Minute Money Solutions: A Step-by-Step Guide to Managing Your Finances.
April 15, 4:30-6pm
/ We're Talking Millions! 12 Ways to Supercharge Retirement, with Paul Merriman.
April 22, 4:30-6pm
/ How to Plan for a Successful and Secure Retirement, with Larry Swedroe, author and expert on the science of investing.
April 29, 4:30-6pm
/ The Most Important Class You Never Had, with Tim Ranzetta, President of Next Generation Personal Finance.
Kathleen Thorne
Martha Bayley
Cindy Harrison
Ki Kilcher
Co-Coordinators
LIBRARY U, A PROGRAM OF THE BAINBRIDGE PUBLIC LIBRARY
Email:
Click here for details on the ever-popular program about foreign policy, Great Decisions at the Library.
Email to be added to the email list for future Library U announcements.