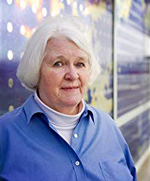 Florrie Munat - Memoir, Children's books
A Bainbridge resident since 1989, Florrie Munat shares her story of caring for her husband as he struggles with dementia in her memoir,
Be Brave: A Wife's Journey Through Caregiving
. Chosen as one of the top 100 Indie books of 2017 Kirkus Reviews describes it as "a beautiful, richly panoramic book that should reassure caregivers and delight memoir readers." Munat, a librarian, teacher and university press worker, has published children's books with Scholastic and also has written for several children's magazines such as Highlights and Cricket. In addition to writing many book reviews for young adults Munat has recorded hundreds of short stories and audiobooks for the Washington Talking Book & Braille Library.