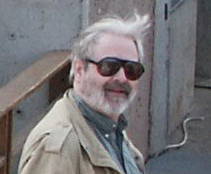 Lawrence Watt-Evans - Science Fiction, Fantasy, Horror, and Comic Books
Lawrence Watt Evans writes under the pen names of Lawrence Watt-Evans and Nathan Archer. He grew up in a family whose parents read science fiction and at the age of seven or eight, he determined he would be an author. He published his first novel,
Lure of the Basilisk
(1978), at the age of twenty-four. He has gone on to write around fifty novels, more short-stories, some non-fiction volumes, and a few comic books. Lawrence's writings are mainly in the fields of science fiction, fantasy, horror, and comic books. He was awarded the prestigious Hugo Award for best short story (
Why I Left Harry's All-Night Hamburgers
) in 1988. He is also the proprietor of a small publishing company, Misenchanted Press. He and his family moved to Bainbridge Island in 2020 after more than thirty years in the Maryland suburbs of Washington, D.C. You can find more about Lawrence Watt-Evans and his writings on his
website
.