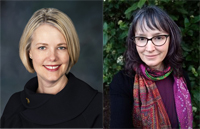 Liesl Clark and Rebecca Rockefeller - Environment, Resource Sharing

In their Bainbridge Island community, friends Liesl Clark and Rebecca Rockefeller discovered that the beaches of Puget Sound were spoiled by a daily influx of plastic items and trash washing on shore. From pens and toothbrushes to toys and straws, they wondered, where did it all come from? Of course, it comes from us—our homes, our backyards, our cars, and our workplaces. And so, a rallying cry against excess stuff was born.

In 2013, they launched the first Facebook Buy Nothing Project group in their small town off the coast of Seattle, and they never expected it to become a viral sensation. Today there are thousands of Buy Nothing groups all over the world, boasting more than a million members, and 5,000 highly active volunteers.
Inspired by the ancient practice of gift economies, where neighbors share and pool resources, The Buy Nothing, Get Everything Plan (2020) introduces an environmentally conscious 7-step guide that teaches us how to buy less, give more, and live generously. At once an actionable plan and a thought-provoking exploration of our addiction to stuff, this powerful program will help you declutter your home without filling landfills, shop more thoughtfully and discerningly, and let go of the need to buy new things. Filled with helpful lists and practical suggestions including 50 items you never need to buy (Ziploc bags and paper towels) and 50 things to make instead (gift cards and salad dressing), The Buy Nothing, Get Everything Plan encourages you to rethink why you shop and embrace a space-saving, money-saving, and earth-saving mindset of buying less and sharing more.