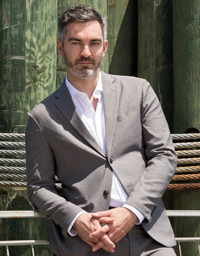 Evan James - Adult Fiction
Evan James grew up on Bainbridge Island, Wash., where his debut novel,
Cheer Up, Mr. Widdicombe
(Atria, March 26, 2019), is set. His essays have appeared in
Oxford American
, the
New York Times, Travel + Leisure
and many other publications. He has an MFA in fiction from the Iowa Writers' Workshop and lives in New York. He teaches creative writing to middle and high schoolers in Connecticut.
In a recent interview he notes that, " I love books that are concerned with the ache of the passage of time in some way . . . I'm also drawn to flamboyant style."