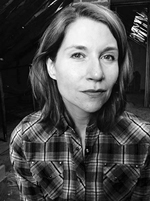 Jennifer Haigh - Fiction
Acclaimed New York Times bestselling author Jennifer Haigh has won multiple awards for her books - News from Heaven (2014), Baker Towers (2013), Faith (2012), and Mrs. Kimble (2005) among them.
Haigh's Heat and Light (2017), is a novel for the times. It is an ambitious story of modern America and the conflicting forces at the country's heart. Readers return to Bakerton, the Pennsylvania town at the center of Haigh's previous novel Baker Towers. Forty years ago, Bakerton coal fueled the country. Then the mines closed, and the town disintegrated. Now Bakerton is discovered to sit squarely atop a massive deposit of natural gas. To drill or not to drill? Prison guard Rich Devlin leases his mineral rights to finance his dream of farming. He doesn't count on the truck traffic and nonstop noise, his brother's skepticism or the paranoia of his wife who insists he is poisoning their frail daughter. Meanwhile, organic dairy farmers Mack and Rena hold out against the drilling - until a passionate environmental activist disrupts their lives. The book's characters lead lives increasingly bound by the opposing interests that underpin the national debate. Says The New York Times: "Ms. Haigh is an expertly nuanced storyteller long overdue for major attention. Her work is gripping, real and totally immersive, akin to that of writers as different as Richard Price, Richard Ford and Richard Russo. With this book, she moves one big step closer to being in their league." (Janet Maslin, NYT). For more info on this author go to http://www.jennifer-haigh.com/.