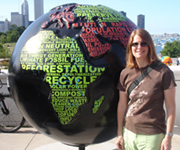 Julie Hall
- Children's Books, Poetry
Julie Hall lives on Bainbridge Island amid family, dogs, cats, rabbits, and old cedar trees. She is a veteran of the book industry, working as editor and poet, as well as writing numerous nonfiction books for children. Her poetry has appeared in various anthologies and her book-length collection of poems
The Winter Garden
was a finalist for the 2003 Ohio State University Press/The Journal Award in Poetry. As author, co-author, or editor her works include
Weather, Seeds, Plants
(2000),
Reptiles and Amphibians
(1998), and
Reinventing the Peabody Sisters
(2006). Her most recent book is "
A Hot Planet Needs Cool Kids: Understanding Climate Change and What You Can Do About It
(2007). The book, written for ages 9 and up, tackles the difficult topic of climate change with clear and accessible writing, engaging illustrations, hands-on activities, and a hopeful and empowering message for kids. It is endorsed by leaders in the climate change discussion such as
Congressman Jay Inslee
. For more information on Julie's latest book,
click here
.