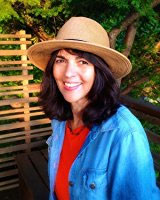 Laurie B. Arnold - Children's Books
Laurie Arnold has designed over 50 children's interactive computer games and written scripts for animated children's television shows like
Dragon Tales
on PBS. Her first novel,
Hello There, We've Been Waiting for You!
(2013) was a finalist in the ForeWord Reviews 2013 'Book of the Year Awards for Juvenile Fiction' and a ' New Mexico Battle of the Books' pick for 2015-2016. The sequel
Hello There, Do You Still Know Me?
(2017) follows heroine Madison McGee and her friends as the go off on another adventure. "This imaginative middle-grade fantasy hits the spot on so many levels, including friendship, loss, and kindness. A great cast of likeable characters, lots of humor, and some fun time-travel surprises, all add up to pure magic!" (Marcia Strykowski, author). For more information on this author go to
http://lauriearnoldbooks.com/
.